What is Trainerbot?
Playing ping pong with friends is incredibly fun. But some partners are too strong and unbeatable. Others are still learning and aren't fun to play with. Others are a good match, but they are not always around.
Introducing Trainerbot, it is the world's first smart ping pong robot that is fun to play with and can teach you how to play. You can program specific shots, hone your skills and simulate games via an all-in-one app.
Who is Talking About Us 
"Trainerbot will push your ping-pong skills to the limit" - USA Table Tennis
"I've played a fair amount of ping pong in my life and I like to think I'm pretty good, but last week a small plastic robot called Trainerbot pretty much wiped the floor with me." -Technobaffolo
"Trainerbot is a new household robot that is almost guaranteed to be your toughest ping-pong opponent." - arsTechnica
"Ping pong and robotics: A match made in heaven" - ZDNet 
Why Trainerbot?
How It Works?
Game On
Simulate any games with drills
With Trainerbot, you can program any kind of game or sequence of shots so you can have fun and improve. Ever wonder how the athlete on TV missed that shot? You can program that famous match and try it for yourself. It's the ultimate practice drill!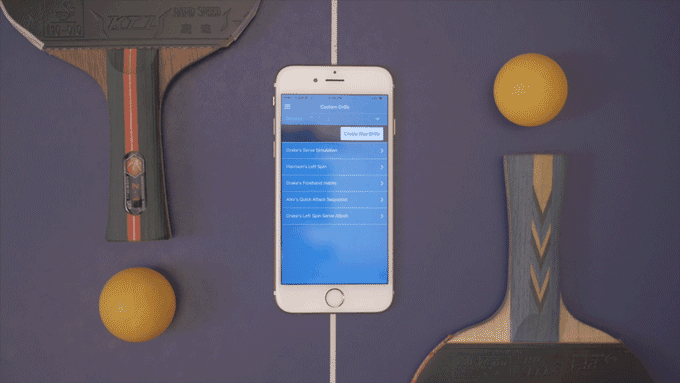 Play at your level
Trainerbot is totally customizable. You can adjust the difficulty up or down so games keep you on your toes.
Play any kind of shots
Trainerbot shoots balls accurately to any part of the table. It accommodates any type of shot you want to work on - be they lobs, short shots, or smashes.
Play with your friends regardless of level difference
It's tough to find a perfect partner who can play a competitive game with you. With Trainerbot's multi-player mode, you can play with friends at different levels by programming varied sequences of shots.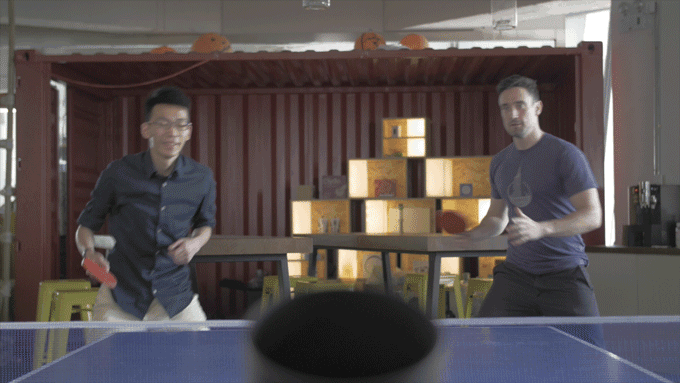 Create your own trick shots
Do you play ping pong with someone you can almost - but not quite - beat? Does this friend have an array of tricky spin shots that give them the edge? Trainerbot is your secret weapon! You can program your opponent's trick shots and secretly practice at home (they won't stand a chance).
Take tutorials to the next level
In Video Learning Mode, you can watch a variety of ping pong tutorials, and then try out a corresponding pre-programmed session. Or, if you want to create your own video tutorial, simply link to your video on YouTube, program a shot sequence and share it with the Trainerbot community.
The App
Tech Spec
If you want to play a longer session, you can setup Trainerbot with any catch net in the market($30-40)! Catch net will collect most of the balls. 
Comparison
This is a comparison between Trainerbot and existing commercial table tennis robots.
Reward
Timeline
Our Story
We are two brothers who love making robots and playing ping pong. We've been playing together since we were kids. We knew each other's game pretty well, so we can frequently enjoy the moment of epic shots when we play against each other. 
We, later on, went to study at different places of the world and wasn't able to train with each other all the time. So we thought, "what if we can build a robot that just serve me that perfect shot like my brother did?"
That's started the epic journey Trainerbot! 
Every summer and winter break we would join up to build a new prototype. It started with a garbage can that spit out balls, but it became more and more epic as our engineering skills grew year after year. 
In February 2016, we decided to take our hobby full time. We were accepted to the HAX Accelerator and have since built six new working prototypes with manufacturing in mind. We're now ready to bring this to the Kickstarter community!
Partnership
Funding
We're hoping to raise $80K with our campaign. We have chosen our manufacturing partners, and are ready to go with production. The money raised will go towards tooling and sourcing the best quality materials. As avid backers ourselves, we feel very honored to be able to bring our project to life with the help of crowdfunding. We saw a need for an affordable ping pong robot that could be easily taken on the go, and really wanted to share it with the Kickstarter community, where so many big ideas become reality. We look forward to hearing your feedback and ideas on how we can make Trainerbot even better!
World's First App Enabled Table Tennis Robot That Gives You Infinite Drills
Warning: This device will make you obssessed with table tennis.
Share this Product
PERKS
Trainerbot Basic
Trainerbot Pro